PRESIDENT'S WELCOME
THE HARVARD CLUB OF SARASOTA (2020-2021)
Serving 800+ Permanent & Seasonal Members of the Harvard Community in Sarasota, Manatee, & Charlotte Counties.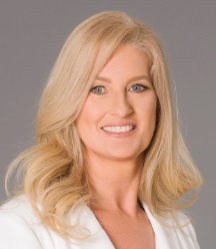 Club President Manda Schossberger Jordan, AB'90
---
TO: All Harvard and Radcliffe Alumni, Faculty, Spouses, Students and Friends
FROM: Manda Jordan, AB'90, Harvard Club of Sarasota President (2020-2021)
.
Greetings! I hope everyone is staying safe and healthy during these very difficult times.
The Harvard Club of Sarasota Inc. is a 501(c)(3) non-profit corporation serving the Harvard Community in our tri-county area. Membership is open to all Harvard alumni, faculty, senior officers, and specified family members. Our Club represents the vibrant connection between our local Harvard Community and the University, fostering relationships, communication, philanthropy, and life-long connections between the University, current Harvard Students, and Alums.
As we do not expect to be able to meet in person at this time, we have planned an incredible season of virtual events for Fall 2020 and Spring 2021, including some amazing panel discussions as well as joint webinars with several Harvard Clubs throughout Florida!
CLICK HERE to view all 2020/2021 events in store for our alumni, members, and guests!
Overall, as a Member of the Harvard Club of Sarasota, you will enjoy:

Connecting with Harvard's global community of alumni, faculty, and experts across a multitude of disciplines as well as with community leaders, school administrators, prospective students, and charitable and professional organizations throughout the region.

Access to over 20 events annually, including year-round Happy Hours, "in-season" social networking & "Young Alumni" events, events with Harvard faculty and global celebrity speakers, special "behind-the-scenes" visits, access to local artists, philanthropists, business executives, and much more.

Advanced ticket purchase options, priority reservations, and member-only events (when available).

Giving Back opportunities: Through donations to our Club's Student Scholarship Fund and/or our Principals' Center Fellowship Program Fund, help Harvard undergraduate students from our area and send local school administrators and principals each summer to advanced training at the Principals' Center at Harvard's Graduate School of Education in Cambridge, MA. Also, support our Schools Committee and Harvard Admissions by volunteering to interview local applicants to Harvard College.

Mentoring & Community Outreach opportunities: Partner with fellow Alumni and Friends to support local college fairs and career days, mentor local students, present Harvard Prize Book Awards, volunteer in our local schools, engage more deeply in our community, and support Harvard in many other ways.
*For a Master List of all Harvard Club of Sarasota events + directions for adding our Club's events to your Google Calendar, click here.
*To make a contribution to our Club's Student Scholarship Fund and/or our Principals' Center Fellowship Program Fund, click here.
*To join as a first-time member of our Club or to renew your existing membership, click here.

We're looking for your help! Additional opportunities for you to share your gifts and get involved in our Club's efforts include:
Virtual Event and Calendar Coordination -- 2-4 hours/month. With so many worthwhile virtual programs and interesting events available, our Board would love your help with researching and coordinating access to non-local offerings, curating these offerings, and making these many critical topics and events known to our alumni membership via calendar listings and postings on our site.
Local Programming Assistance -- 2-4 hours/month. Help us gather the many possibilities for speakers, performances, and more. Vet or curate these opportunities to serve our diverse alumni and membership constituencies. Make recommendations to the Program and Events committee.
Happy Hour Help -- 1-3 hours/month. The club's monthly happy hour is one of the most popular things we do. It brings together members socially and is a key way we engage new members. Let's make sure this program remains fresh -- with new online venues, activities, themes, etc! Bring your best ideas to help coordinate a handful of months.
Alumni Connection & Membership Outreach - 2-4 hours/month. During this difficult time of social distancing, it's more important than ever before to stay active and engaged with Fellow Alumni and Friends. Share your gifts and help us ensure that every member of our extended family feels an important part of our community!
Have an idea? Please reach out and let us know!
I look forward to connecting with each of you this season. Thank you for all you do!

Sincerely,
Manda Jordan, AB'90
President, Harvard Club of Sarasota 2020-2021
Phone: (978) 886-2788
Email: MandaJordan7000@gmail.com