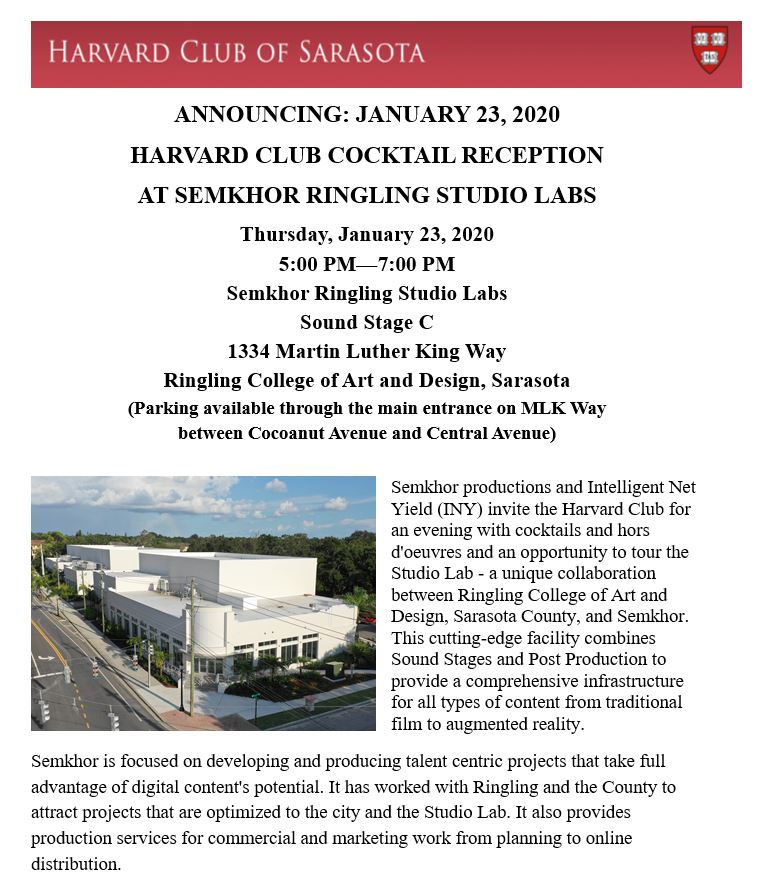 WELCOME to all Harvard Alumni in Sarasota, Manatee, Charlotte Counties &
all NEW/CURRENT Members of the Harvard Club of Sarasota!
Purchase tickets online until January 21 at:
https://hcsarasota.clubs.harvard.edu/article.html?aid=391
Online ticket access will cease at midnight on Tuesday, January 21
as we have a deadline for submitting attendance numbers to Ringling College.
Click here to buy tickets!!!
When:
5:00PM - 7:00PM Thu 23 Jan 2020, Eastern timezone

Where:
Semkhor Ringling Studio Labs--Sound Stage C
1334 Martin Luther King Way
Sarasota, FL 34234 United States of America
[ Get Directions ]
Look Who's Coming:
James Meade
Bonnie McCormick
Thomas Daily
Jeanne Daily
Anne-Marie Tardif
Arthur Thompson
Dimitar Sasselov
Guest of Dimitar Sasselov
Peter Cooper
Sherry Cooper
Allan L Gardner
Nathaniel Bickford
Jewelle Bickford
Daniel Raker
Thomas Davenport
Joan Davenport
Glenn Cooper
Tessa Cooper
Walter Ulin
Carole Ulin
Harvard Club
Stuart Burstein
Carolyn Burstein
John Lucas
David Lucas
John Ramsey
Connie Hall Mcmanus
George Knight
David Downer
Shohama Wiener
Alan Dattner
HolisticDermatology.com
Oliver Janney
Steven Mamarchev
Becky van der Bogert
Barbara Moody
Kathy Archer
Douglas Richards
Patricia Richards
Greg Klein
... a total of 38 guests.
Note: to opt out from this list please sign in, go to My Account and change your preferences under My RSVPs.