Announcing: Sarasota Harvard Club's February 2019 HAPPY HOUR
2/13/2019, 5:00-7:30pm @ CLASICO in Sarasota
Join fellow Harvard Alumni & Friends at the Sarasota Harvard Club's
February 2019 Happy Hour !!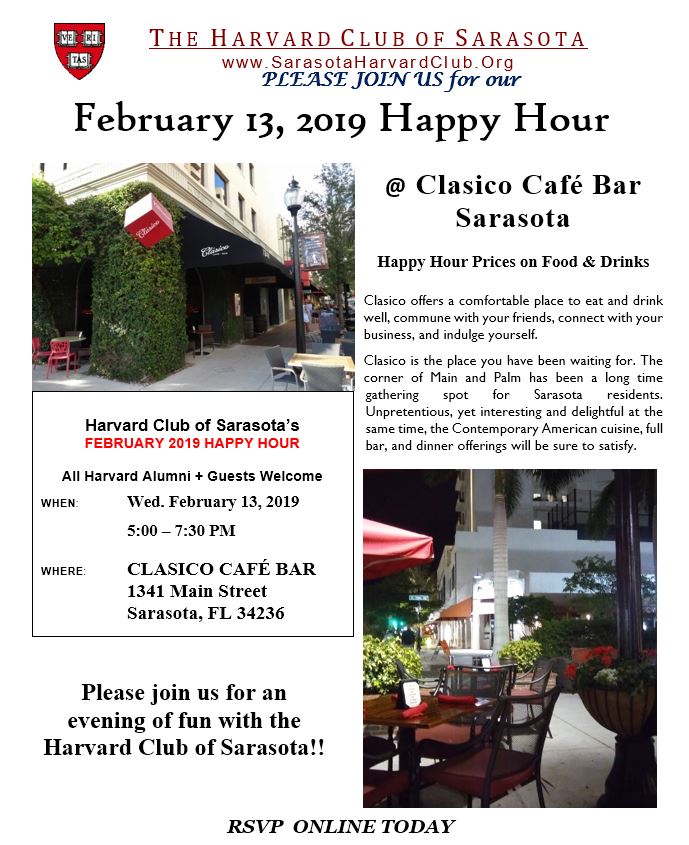 https://hcsarasota.clubs.harvard.edu/article.html?aid=370
Are You Coming?
PLEASE RSVP & REGISTER EACH NAME BELOW
When:
5:00PM - 7:30PM Wed 13 Feb 2019, Eastern timezone

Where:
Clasico Cafe Bar
1341 Main Street
SARASOTA, FL 34236
[ Get Directions ]
RSVP Here...
Look Who's Coming:
James Meade
Accenture
John and David Lucas
Nancy Enander
Ellen Morris
Guest
John Hoey
beneficial capital corp
Daniel Boxser
Litten Boxser
Marshal Mills
Frank & Diann Wilson
Oliver Janney
Harvard Club
Ed Williams
retired
Cynthia Walker
Frank Wilson
John Hoey
Beneficial Capital Corp
Michael Craig
Edward Laake
Peter Cooper
Cynthia Walker
AFDB (former)
John/Gretchen Bullock
Alyce Su
Manda Jordan
Theodore Waz
Theodore & Agnieszka Waz
Martin and Celia Max
Ron Levine
Herrick, Feinstein LLP
Cindy Levine
Lawrence Bond
Frank and Linde Ward
... a total of 29 guests.
Note: to opt out from this list please sign in, go to My Account and change your preferences under My RSVPs.