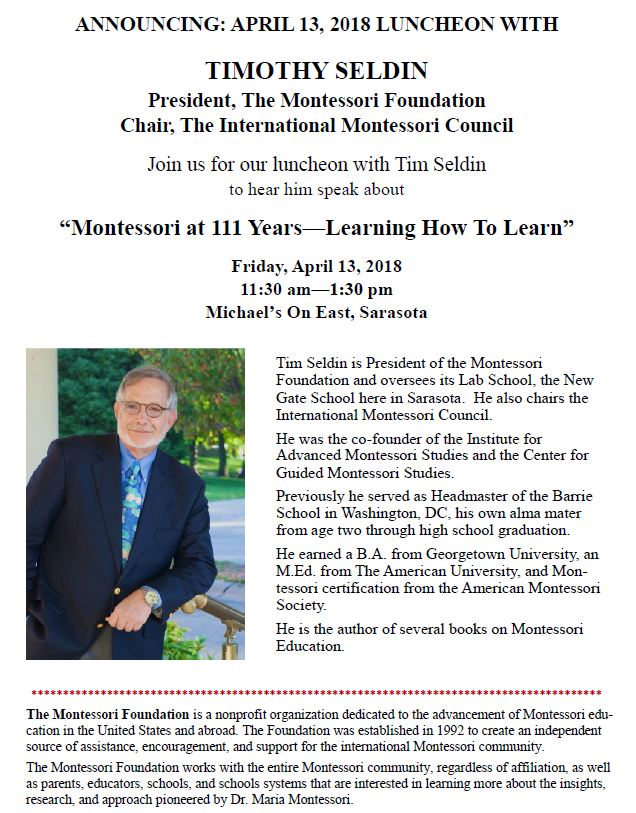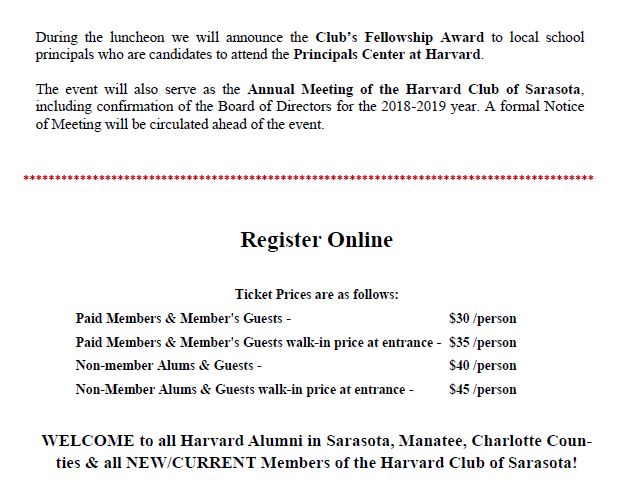 Purchase tickets online until April 11 at:
https://hcsarasota.clubs.harvard.edu/article.html?aid=350
Online ticket access will cease at midnight on Wednesday, April 11
as we have a deadline for submitting attendance numbers to Michael's on East
Click here to buy tickets!!!
When:
11:30AM Fri 13 Apr 2018, Eastern timezone

Where:
Michael's on East
1212 South East Avenue
Sarasota, FL 34239 United States of America
[ Get Directions ]
Look Who's Coming:
Benjamin Berman
Allan L Gardner
Barbara Gardner
Rosalie Peirce
Charles Peirce
Richard Klein
Ellen Klein
Walter Ulin
Carole Ulin
Frances Fergusson
John Bradbury '63
Charles Lipson
Ellen Lipson. MA '57
Sherry Penney
Sherry Penney Livingston
Daniel Idzik
Kathleen Osborne
Nancy Enander
Jerry Hamovit
Jorge Reynardus
Karen Chapman
Peter Cooper
Sherry Cooper
Allen Morton
Roberta Morton
Cynthia Walker
John Lucas
David Lucas
Stuart Burstein
Brian McCarthy
Black Sail, LLC
Valerie McCarthy
Starboard Tack LLC
Medora Dashiell Sheehan
Medora Dashiell Sheehan
Kenneth Louard
Keller Williams Realty Select
... a total of 36 guests.
Note: to opt out from this list please sign in, go to My Account and change your preferences under My RSVPs.