IF YOU HAVE ALREADY RESPONDED BY MAIL, PLEASE DO NOT RESUBMIT A NEW ORDER!
WE WILL TAKE ONLINE & MAIL IN ORDERS UNTIL SPACE RUNS OUT!
Please don't forget (in the "
SPECIAL INSTRUCTIONS
" area of you online order)
to include Name & Entree Selection for each member of your party!
All Harvard Alumni in
Sarasota, Manatee, Charlotte Counties
& all NEW/CURRENT Members and Guests of the Harvard Club of Sarasota are Welcome!
WE LOOK FORWARD TO SEEING YOU THERE!!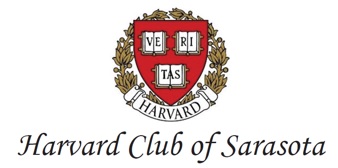 When:
5:30PM - 9:00PM Wed 26 Feb 2020, Eastern timezone

Where:
Michael's on East
1212 South East Avenue
Sarasota, FL 34239 United States of America
[ Get Directions ]
Look Who's Coming:
Manda Jordan
Alessandra Scanziani
AlexArt International Art Gallery
Brenda Brown
Peter Cooper
Sherry Cooper
Richard Lannamann
Nathaniel Bickford
Paul Rosenberg
Don O'Shea
New College of Florida
Mary O'Shea
Edward Safran
Harriet Safran
Jed Haslam-Walker
Coldwell Banker
Benedict Haslam
Pine View School
Christina Landry
Alan Altshuler
Harvard University- emeritus
Julie Altshuler
retired
Phyllis Hurwitz
Daniel Raker
William Johnson
Guest of Daniel Raker
BENJAMIN Sachs
Burton Jaffe
Eleanor Jaffe
Kindra Muntz
Jean Martin
Sandy Lenhart
Robert Cutler
BarbaraCutler Staton
Andy Kotsatos
Guest of Andy Kotsatos Parsons
Allen Morton
Roberta Morton
Edward Laake
Geoffrey Chalmers
Ronald H. Henderson
Mimi Henderson
Steven Mamarchev
Judy Shore
Lucky Shore
David Merrill
Guest of David Merrill
Fredric Jarrett
Guest of Fredric Jarrett
Jose Santana
Private Physician Services
Kenneth Louard
Shae Callahan
Harvard Alumni Association
Philip Lovejoy
Harvard Alumni Association
Arysol Niffenegger
Joseph Hurd
Anna Chiumenti
Saul Kilstein
John Lucas
Francesca Bonte
Richard Bonte Bonte
George Salis
Arlene Abiera-Salis
Sylvia Saba
Guest of Sylvia Saba
Wendy O'Neill
David Rayner
Wendy O'Neill
William Kurz
Guest of William Kurz
Mitsi Corcoran
Sarasota County Schools
Allen Ivey
Guest of Allen Ivey
James McClennen
Stephania McClennen
Marilynne White
Douglas Richards
Guest of Douglas Richards
Harry Colburn
Matilde Dal Boni
William Sandy
Guest of William Sandy
... a total of 76 guests.
Note: to opt out from this list please sign in, go to My Account and change your preferences under My RSVPs.