PURCHASE TICKETS ONLINE UNTIL NOON on Wednesday, FEBRUARY 12th, 2020!
All Harvard Alumni in
Sarasota, Manatee, Charlotte Counties
& all NEW/CURRENT Members of the Harvard Club of Sarasota are Welcome!
WE LOOK FORWARD TO SEEING YOU THERE!!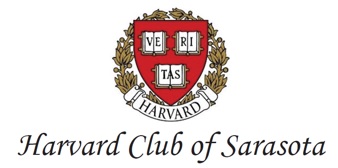 When:
11:30AM - 1:30PM Fri 14 Feb 2020, Eastern timezone

Where:
Michael's on East
1212 South East Avenue
Sarasota, FL 34239 United States of America
[ Get Directions ]
Look Who's Coming:
William Lawson
Ashley Lawson
Jorge Reynardus
R. Buechler
Nancy Buechler
Rosalie Peirce
Charles Peirce
Jeffrey Jones
Allan L Gardner
Barbara Gardner
Oliver Janney
Anne-Marie Tardif
HBS
Arthur Thompson
Harvard College
Nancy Enander
beryl Kuder
Peter Cooper
Sherry Cooper
Mary Lou Winnick
Guest of Mary Lou Winnick
Nathaniel Bickford
Jewelle Bickford
Neil Blacklow
Margery Blacklow
BA Harvard 1962
Christine Ervin
Michael knupp
Alessandra Scanziani
AlexArt International Art Gallery
Jed Haslam-Walker
Alan Sachs
Marilyn Sachs
Thomas J. Rattigan
Jane Rattigan Rattigan
Jean Reid
J. Hartenstine
Ronald Benice
doris benice
John Lucas
Phyllis Hurwitz
Robert Hughes
Tracey Hughes
Becky van der Bogert
Giles van der Bogert
Kathy Archer
Stanley Rutstein
Jo Rutstein
Mark Hausberg
Meg Hausberg
Sid Steinkeler, MD
Susan Steinkeler
James Meade
Harvard Club
Allen Ivey
Guest of Allen Ivey
Guest of Allen Ivey
Guest of Allen Ivey
Stuart Burstein
Carolyn Burstein
Steven Mamarchev
BENJAMIN Sachs
Kindra Muntz
Benjamin Berman
Kenneth Louard
Peter Buros
Guest of Peter Buros
Douglas Richards
Guest of Douglas Richards
Bill Stocker
Terry Stocker
... a total of 69 guests.
Note: to opt out from this list please sign in, go to My Account and change your preferences under My RSVPs.