Announcing: Sarasota Harvard Club's NOVEMBER 2016 HAPPY HOUR
11/22/16, 5-7pm @BLUE ROOSTER
Join fellow Harvard Alumni & Friends at the Sarasota Harvard Club's
FREE November 2016 Happy Hour !!
Are You Coming?
PLEASE RSVP & REGISTER EACH NAME BELOW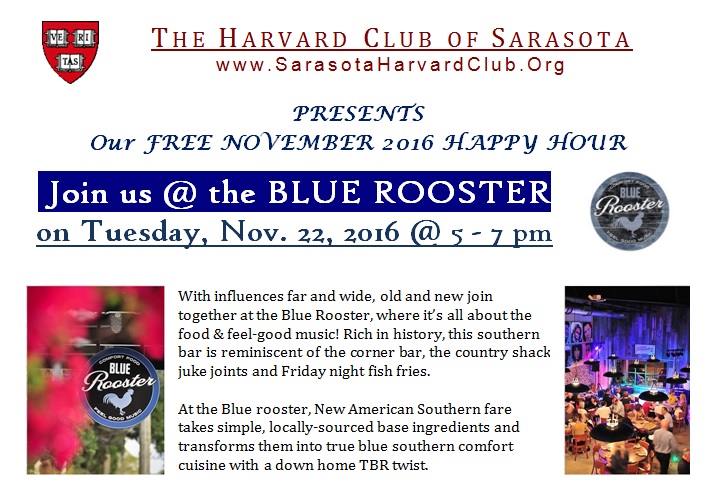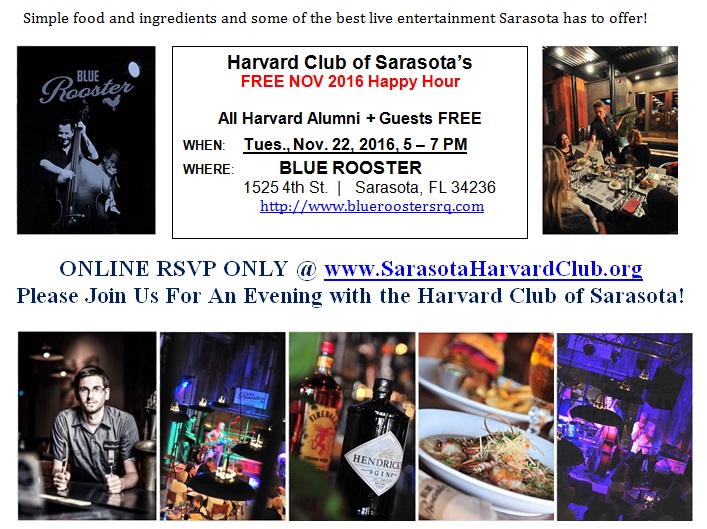 When:
5:00PM - 7:00PM Tue 22 Nov 2016, Eastern timezone

Where:
Blue Rooster
1525 4th St.
SARASOTA, FL 34236
[ Get Directions ]
RSVP Here...
Look Who's Coming:
Manda Jordan
Harvard Club President/Top Team Properties-Keller Williams
Robin Radin
Robin Radin
Daniel Raker
Emma Raker
William Johnson
Nancy Enander
Anna Ulitsky
Guest
David Morse
Harvard College 62
cliff rand
retired
James Meade
Accenture
Bonnie McCormick
blackbog design
Judith Fagin
Judith E. Fagin, PMP
Joseph HURD
Marjorie and Steven Sayer
Joseph Cooper
AMANDA DICKERSON
Jim Goulder
Jim Goulder
Jim Goulder
Ingrid Goulder
... a total of 22 guests.
Note: to opt out from this list please sign in, go to My Account and change your preferences under My RSVPs.