Announcing: Sarasota Harvard Club's July 2017 HAPPY HOUR
7/19/17, 5-7pm @ CLASICO in Sarasota
Join fellow Harvard Alumni & Friends at the Sarasota Harvard Club's
FREE July 2017 Happy Hour !!
Are You Coming?
PLEASE RSVP & REGISTER EACH NAME BELOW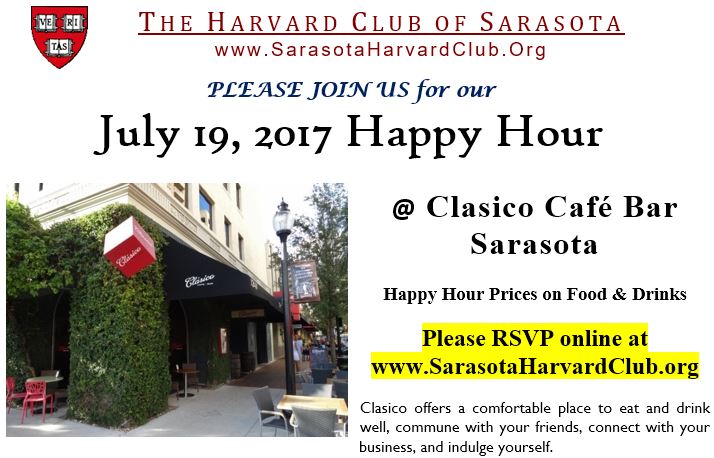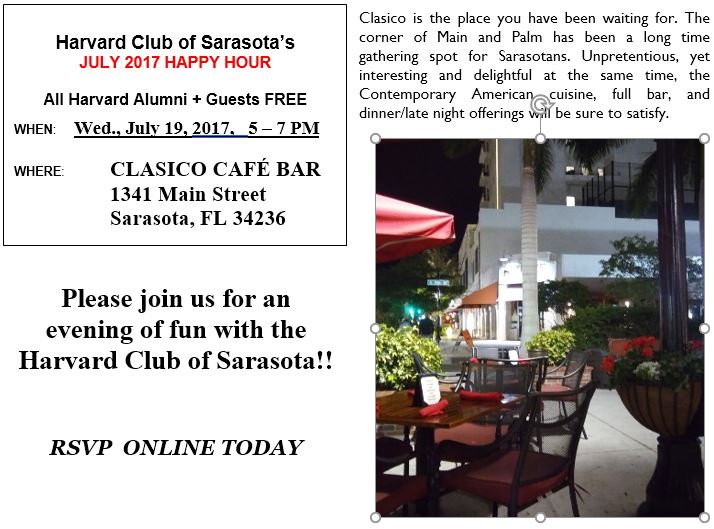 Are You Coming?
PLEASE RSVP & REGISTER EACH NAME BELOW
When:
Wednesday, 07/19/17 at 5:00pm - 7:00pm | iCal
Where:
Clasico Cafe Bar
1341 Main Street
SARASOTA, FL 34236
[ Get Directions ]
RSVP Here...
Look Who's Coming:
James Meade
Waldron Kraemer
HLS
Manda Jordan
Harvard Club/Top Team Properties - Keller Williams
Art Safer
Loyola University Chicago
Susan Mann
Concordia University Chicago
Kyle and Anne Hanton
Kyle and Anne Hanton
Bonnie McCormick
Ed Williams
Laurel Cohen
Robert & Judy Benfari
jeffrey morgan
Peter Cooper
George McDermott
Helen Miller-McDermott
Daniel Raker
ConnectPress
William Johnson
Guest of Dan Raker
John Lucas
David Lucas
Nancy Enander
Frank Wilson
HBS 1974
Diann Wilson
Guest of Frank Wilson
Michael Aloian
Charlotte State Bank & Trust
Ken and Sue Louard
Keller Williams Realty Select
Brenda Brown
Harvard Club
Oliver Janney
Stuart & Carolyn Burstein
Lawrence Bond
HBS '63
Thomas (and Sally) Geisler
retjred lawyer/college instructor
Lisa Markham
Northwestern Club
cliff rand
retired
Amy Barkin
Claude Jackson
Bobbi and Will lorry
James Conahan
Kathleen Conahan
... a total of 36 guests.
Note: to opt out from this list please sign in, go to My Account and change your preferences under My RSVPs.