Announcing: Sarasota Harvard Club's
2019-2020 Annual Meeting and Virtual HAPPY HOUR!!
4/30/2020, 4:00-5:00 pm (via ZOOM!)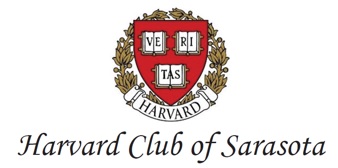 is pleased to invite you to our
2019-2020 Annual Meeting
&
(1st ever) Virtual Happy Hour!
Thursday, April 30, 2020
4:00 – 5:00 PM
via Zoom (Online Platform)
All Harvard Club of Sarasota members are invited to join us on Thursday, April 30th, 2020 for our Annual Meeting of the Club and our first ever Virtual Happy Hour!
Harvard Club President James Meade and Treasurer Oliver Janney will conduct the Annual Meeting including a Club update, followed by our fun virtual Happy Hour to be hosted by Director-elect Dan Raker, who encourages you to ready your 'quarantini' and be prepared to share with the group something positively inspiring in this time of COVID-19!)
Please RSVP online (below) prior to the meeting.
A reminder email with all online Zoom meeting details will be sent to Club members on the day of the event.
We need 25+ members to make our meeting official!
We look forward to your participation!
_______
2020 - 2021
Officers & Board of Directors
Club President: Manda Schossberger Jordan, AB '90
First Vice-President: Kenneth Louard, AB '84, JD & MBA '88
Second Vice-President: Peter Cooper, MBA '75
Immediate Past President: James Meade, ALB '91
Treasurer: Oliver J. Janney, JD '70
Secretary: Judith Fagin, MPA '13
Director (2018-2021): Scott Hechlik, AMD '15
Director (2019-2022): Stanley Rutstein, AMP '75
Director (2020-2023): Daniel Raker, AB '79
Harvard Club of Sarasota
Annual Meeting

Thursday, April 30, 2020
4:00 – 5:00 pm
via Zoom
When:
4:00PM - 5:00PM Thu 30 Apr 2020, Eastern timezone

Where:
Virtual:
ZOOM Online Meeting Notice will be emailed to members prior to the event

[ Get Directions ]
RSVP Here...
Look Who's Coming:
Manda Jordan
Harvard Club of Sarasota
John Hoey
Beneficial capital corp
Xin Yu
Raymond James
Andrew Hall
Wendy O'Neill
Oliver Janney
Harvard Club
Richard Moskovitz
Stan Rutstein
Harvard Club
Kyle Hanton
Tom Crawford
Kindra Muntz
MS
Nancy Enander
Mary Lou Winnick
Daniel Raker
ConnectPress, Ltd.
Peter Cooper
Brenda Brown
Sherry Cooper
James Meade
AMY BARKIN
... a total of 19 guests.
Note: to opt out from this list please sign in, go to My Account and change your preferences under My RSVPs.