Sarasota Harvard Club's OCTOBER 2016 HAPPY HOUR @ LIBBY'S Cafe + Bar on Wed. 10/19/16, 5-7pm
Join fellow Harvard Alumni & Friends at the Sarasota Harvard Club's FREE October 2016 Happy Hour, Welcome to Your City Event for new Harvard Alumni, and the Harvard Business School's Global Networking Night in Sarasota!!
Are You Coming?
PLEASE RSVP & REGISTER EACH NAME BELOW
O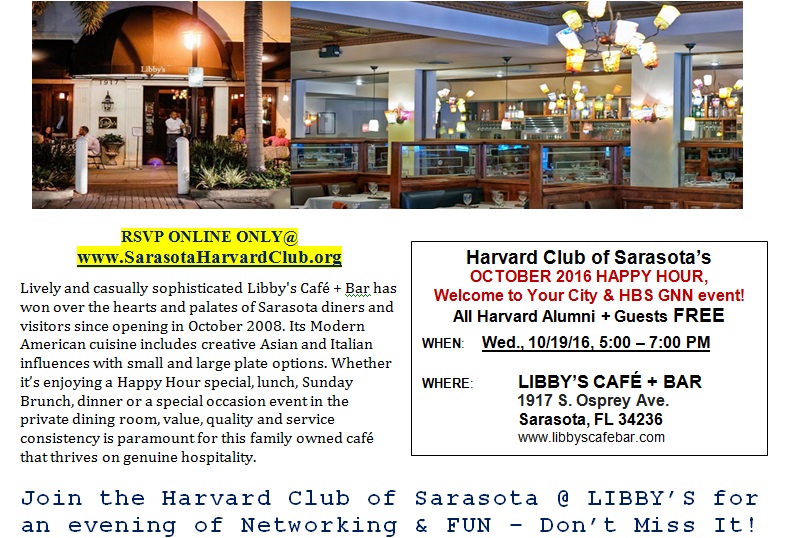 When:
5:00PM - 7:00PM Wed 19 Oct 2016, Eastern timezone

Where:
LIBBY'S CAFE & BAR
1917 South Osprey Ave.
SARASOTA, FL 34236
[ Get Directions ]
RSVP Here...
Look Who's Coming:
Manda Jordan
Club President
Brenda Brown
Nancy Enander
cliff rand
retired
Amy Barkin
Claude Jackson
Daniel Raker
William Johnson
Becky van der Bogert
Becky van der Bogert
Becky van der Bogert
Giles van der Bogert
Karen Berman
Cynthia Walker
UNIDO
... a total of 14 guests.
Note: to opt out from this list please sign in, go to My Account and change your preferences under My RSVPs.